Best Electric Cars for Sale In 2022
Electric vehicles are not just a trend anymore, they are a staple of our future in the automotive world. In 2022, there are plenty of EV options to choose from.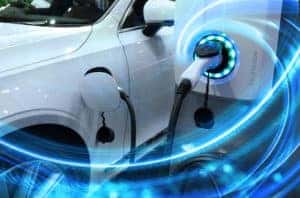 At Tom Masano Auto Group in Reading, we've narrowed down some popular and affordable EV's that drivers should consider driving in 2022.
It is important to think about what features are most important to you on the road before entering the in-person or online car buying experience. Drivers need to think about: 
What features should I look for when buying an electric car for sale?
Determine whether or not the vehicle driving range works for your lifestyle and your road adventure plans

Ask yourself, does the EV fit into your financial picture and budget?

Is the vehicle spacious enough and is there enough cargo space?

Test drive many EV's before making a decision on 'the one' 
The all-electric route is the way to go! 
No fuel is involved and these days, there are thousands of EV public charging stations near me which are located around the world on routes that are traveled often. Charge up at home or use public charging stations and save money while helping become a part of a sustainable future.
Choose the Best Electric Cars in 2022! 
Top 2022 EV's to Consider – 7 Sustainable & Electrifying Vehicles: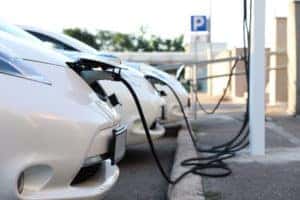 1. BMW i3
For drivers seeking the BMW brand and number one practicality and affordability, this all-electric vehicle is compact and offers 2 model options: 
BMW i3: Speed 0-60 mph in less than 7.2 seconds

BMW i3s: Speed up to 0-60 mph in less than 6.7 seconds

MSRP base price: $44,450 – $51,500

Drive up to 200 miles in range before having to charge at home or at a

public charging station near me

Horsepower 170-181 hp

Gain 100% charge in around 6.5 hours with the standard at-home plugin

Utilize BMW smartphone APP capabilities

Lock and unlock your vehicle 

Manage and monitor battery power and usage

Set vehicle interior temperature before you enter your

BMW i3 

Use the app to find parking spots nearby

Efficiently drive by tracking your driving habits

And more

Gain up to $7.5K in tax credits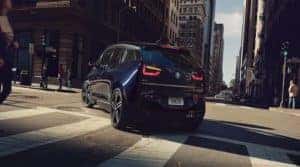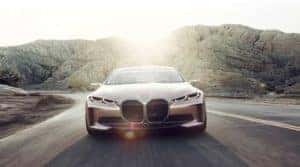 Drivers seeking supreme luxuriousness and spaciousness in a four-door sedan should electrify their 2022 driving experiences with the aerodynamic BMW i4. 
There are two model options available: 
i4 eDrive40: driving range = 301 miles
i4 M50: driving range = 270 miles
MSRP $56,395

The i4 has a sharp, electrifying and futuristic design that screams exclusivity  

Forget about gasoline & gas stations; charge your EV at home from 0-100% in 8-hours on 11kW

Or, use a

public charging station near me

for a fast charge that can charge anywhere from 0-100% in 34 minutes when using 205kW 

Advanced technology features and a modern and sleek interior and exterior design

Spaciously comfortable, open and airy 

The panoramic sunroof is wide & open and gives drivers a full-on outdoor experience

Up to $7.5K in tax credits
It's not too late to order your i4 from Tom Masano Auto Group & BMW of Reading today!
The iX offers space, power and energy wrapped into an all-electric SUV for sale with dual engines and all-wheel drive (AWD). Leave carbon emissions behind, innovate and sustain your driving experience while saving and never have to fuel up again!
Gain a driving & battery range up to 324 miles before needing to plug in for a charge

Enjoy sports utility SUV capabilities and spaciousness
MSRP: $83,200

Head off in 0-60 mph in 4.4 seconds or less

Car buyers who have pre-ordered their BMW iX

can expect deliveries to begin March 2022

The battery is large: 106.3 kWh

Myriads of safety features and practical for every day and recreational use

Gain tax incentives up to $7.5K

Keep in mind, the highlights and features mentioned are just the beginning. Learn more in-depth information about the iX from BMW of Reading.
Get work done, set up a workstation inside this truck as the interior and exterior is ample and comfortable. Stay productive whether you are in recreational settings or work far out in backcountry land and have access to 360 degree lighting to light your way when locations are dark.
This all-electric truck for sale is the electrifying spark drivers have been seeking. Get ready to order your F-150 and park! 
Ford Pro Power Onboard: 9.6 kilowatts of power (Constantly power work gear or recreational items and tools for number one productivity)

Includes a one-of-kind frunk (front trunk) extra room to store important items

MSRP starts at $39,974

Grab up to 0-60 mph in 4 seconds!

Tow up to 10K lbs./payload 2K lbs.

563 horsepower

Up to $7.5K in tax credits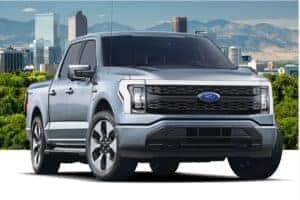 The manufacturers of Ford have created an adaptive, perceptive, muscular yet sleek and roaring design. Ford creates a freeing experience that places the driver in an intuitive and all-knowing SUV for sale. Quietly drive and unwind while exploring the many destinations on your driving agenda. 
Speeds ranging 0-60 mph in 4 seconds or less provides an exhilarating journey for drivers. Imagine an all-electric SUV Ford Mustang Mach-E and enter freedom at its finest.
With an estimated EPA driving range, the Mach-E SUV for sale ravages over 300-314 miles in driving range before needing the next charging station near me.
With high regard of technology, communications and entertainment, Ford created generation SYNC, offering machine learning which adapts to a personalized you, based on your likes and preferences. 
EPA is 300-314 miles before a charge

Ford BlueCruise

hands-free 

MSRP starts at $43,895

266-480 horsepower

Electric all-wheel drive

Spacious sports utility SUV fitting up to five passengers

Panoramic sunroof 

Up to $7,500 in tax credit
Select

California Route 1

Premium

GT
3 Different Versions are Available:
Standard:

267 miles (driving range) 

Performance:

315 miles (driving range) 

Long Range:

334 miles (driving range) 
0-60 mph in 3.1 seconds; supersedes all of the other all-electric vehicles in terms of speed

Technology-driven 

MSRP base price: $44,990-$55,990

15-inch touchscreen

360 degree cameras for ultimate safety

All-Wheel drive

Dual motor

Drive off-road with superb traction (snow, rain and mud) 

Ultrasonic sensors for enhanced safety

Plus more

Up to $7.5K in tax credits
Long Range:

318 miles (driving range)

Performance:

303 miles (driving range)

MSRP base price: $58,990

Dual engine & All-Wheel drive

Amazing traction and intelligent in all-weather conditions (mud, snow or rain)

Versatile seating and fits up to 7

360 degree cameras for optimized safety

15-inch touchscreen

Glass roof equals more head space and UV protection

And more…

Up to $7.5K in tax credits
Contact Tom Masano Auto Group to order your electric car for sale and determine which new or used cars near me are right for you. Allow our car experts to seamlessly help you buy cars for sale in-person or online.
Innovate and advance your car buying and driving style today!